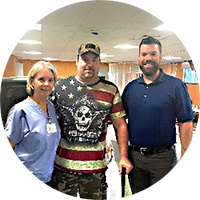 "I'd like to thank the amazing rehab team at The Brentwood for helping in my recovery. I came to The Brentwood from Spaulding in August. I have been focused on my recovery during my time here and I have come so far! Special thanks to Kevin and Debbie from the rehab team for all their hard work and persistence. Without you, I would not be walking out today!"
– Jeremy Santos
---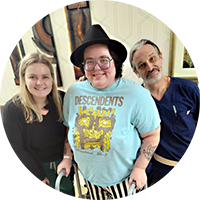 "My daughter spent 3 months here recovering from Guilliane Barre Syndrome. When she arrived she wasn't able to stand, with the wonderful support and hard work of the Physical Therapy team she is now able to stand and starting to walk with a walker. I am from PA and wasn't able to be there with my daughter most times, but the staff kept me informed of her progress on a regular basis. Thank you for all your support." (from a Google review)
– Wendy Singer
---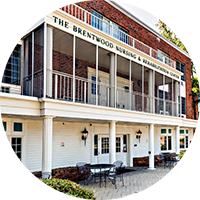 "I'm going to work tomorrow… and that's some of the best news I've had in the last week-and-a-half. After re-suffering a back injury, I was able to be admitted to Brentwood. Having spent days in the hospital, the care I received at Brentwood was night and day compared to my other treatment. When I was immobile, physical therapy guided me through some highly effective exercises, making sure to focus on form to get the most benefit. Pretty soon I was walking the halls and climbing steps, at my own pace and with their encouragement. Around the therapy, the staff at Brentwood didn't miss a single step. From admissions, to dietary, to meds… A to Z was covered and gave me the peace of mind to focus on my recovery. As a former recruiter in the New England healthcare industry, I've seen a lot firsthand. I would put Brentwood at the top of my list for care, no hesitation."
– Mike Gaston Guay
---
"Greetings,
Allow me to introduce myself. My name is Christina Kiriakos. I reside here at Brentwood Rehab where society views Brentwood Rehab & Nursing Center as a negative environment. Brentwood has a stigma and I believe that I can share a positive light by speaking about the positive healing that's provided by Brentwood every minute of every day. Brentwood provides a sense of hope. For example, the "A" team, they provide a spirit of hope, lift spirits, and provide a welcoming feeling. Now, I ask you- where can you find that? The answer is easy-at The Brentwood. If you are looking for HOPE in a facility for a family member, one can find it in the Brentwood!
Respect,"
– CHRISTINA KIRIAKOS
---
"My stay here at The Brentwood has been very nice! I really recommend the nursing staff and the CNAs who all bend over backwards to help me. I know of other patients that feel the same way as I do and I would definitely recommend that others come have rehab at The Brentwood. In fact, I already have. I recommended a friend who is currently in the hospital. The people here are great. Even the dietary team has helped me with my diet, and anything I have asked for has happened here. I'm very happy with my stay here."
– IAN MALTMAN
---
"My stay at The Brentwood has been excellent. I have been in a lot of rehabs and this is by far the best one I have been in. The nurses have been very helpful, especially Dana and May. The nursing assistants have been fantastic. If I push my call light button, they come right away. The food has been good here. I went to an activities group yesterday and had a lot of fun using RESTORE. I had exercise without even realizing it. I've been to a lot of places in the last five years and I know my rehabs and I would definitely recommend for someone to come to The Brentwood."
– JAMES GIGUELLO
---
"My experience has been very good here at The Brentwood. All of the staff have been wonderful, and very helpful. Every person I have met here has been fantastic. I'm looking forward to my rehab here. I would definitely recommend someone to come here to The Brentwood if they needed rehabilitation services."
– ANDREW MCMULLEN SR.
---
"My wife, Karen recently came for rehab here at The Brentwood from Melrose Wakefield Hospital. She had several wounds and she has been on a wound vac and it is working quite well. The staff have been terrific and have been there for every need she has. The staff is here to please and it has been an amazing experience. The food has been outstanding. We have met 4-5 nurses all of whom have been fantastic. It's incredible how compassionate the staff is and you can clearly see that they love what they do. I would definitely recommend The Brentwood to others who are in need of rehab."
– WILLIAM SHELL
Husband of Karen Shell
---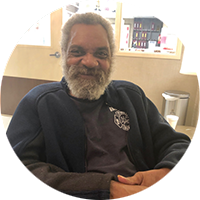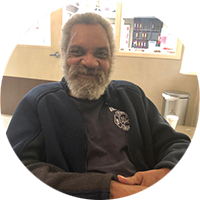 "I'm so glad The Brentwood is here. I was at another center and then came here. They have helped me a lot here. I'm feeling good and getting better each day. The best thing about The Brentwood is that they really listen, and that is very important to me."
– Daryl Long
---
Ed and Phyllis Sullivan have been married for 66 years and they have three children. They danced together for 15 years doing square dancing and ballroom dancing. Phyllis is very dedicated to Ed and comes every day and really enjoys pushing his wheelchair and getting him outside in the beautiful area surrounding The Brentwood. He came here from a neighboring center and couldn't be happier.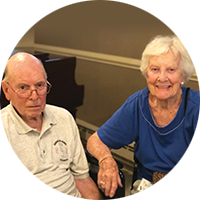 "People here are very caring. I don't know how they do it all. They remember everyone's name and make you feel just like family. Ed loves when the entertainment comes in and going walking every day around the gardens. I would deinitely recommend The Brentwood to anyone in need of long-term care. Thanks to the team here at The Brentwood we are still able to continue our relationship even if it is on a different level – what matters is that we are still able to be together."
– Phyllis Sullivan
(WIFE OF ED SULLIVAN)
---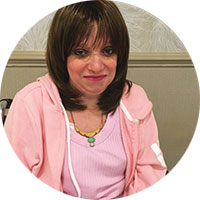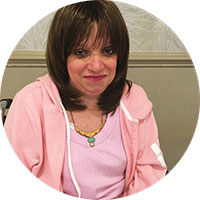 I really enjoy being a resident here at The Brentwood. One of my favorite things here is the hair dresser who goes out of her way to make me feel really special. It may seem small, but when I am able to get a full cut, color, and highlight, it's something that makes me feel beautiful and refreshed.
– Barbara Wilson
---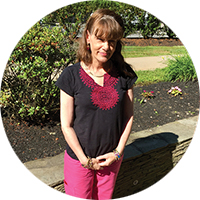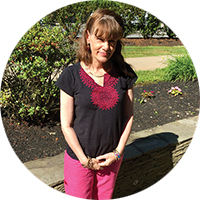 The staff is so dedicated and never leave us hanging. I just love the nursing staff. Stephanie one of the Registered Nurses who cared for me is so kind, and no matter how busy she was always so calm, cool and helpful. She has a way with people. She can calm them down while making them feel special. The other nurses, Mary and Ester are amazing as well. Rich, a nurse on 3-11, is funny and always made us laugh.
I wouldn't hesitate to come back to The Brentwood if I ever needed rehab again."
– Mary Jenkins
---
"My brother is doing really well and happy at The Brentwood. They really look after him and I'm happy with his care. I love the fact that if I have any concern it is taken care of right away! His nurses Lisa and Gail are great."
– PAM RICCI
(Sister of Chris R. Resident here at The Brentwood)
---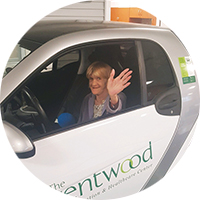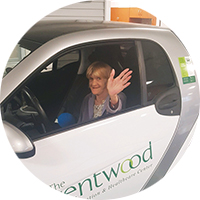 The first time I did rehab at The Brentwood, it was great. That's why when I ended up at the hospital recently, I told the hospital that if I'm going for rehab, I'm going to The Brentwood. I feel incredibly lucky to be so well cared for during both of my stays here. All of the staff here— from the office to the nursing team— have helped keep me alive. I am happy to be returning home as I'm expecting twin granddaughters in early July, but would certainly recommend The Brentwood to family and friends should they ever are in need of rehab.
– Deborah Colucci
---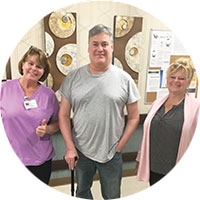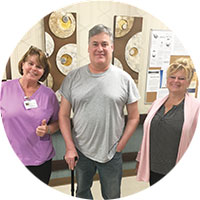 "I'm going home today!
When I first came to The Brentwood I wasn't able to walk because of the intense pain in my leg, but with hard work and the help of the team here and the great Rehab Staff especially: Rachel, Kevin, and Ron, today I'm going home after just three weeks of being here! The rehab gym is open, bright, and welcoming and is a nice place to rehab. The Brentwood is filled with warm and friendly staff, who made me feel like I was in good hands and I would certainly recommend to others if they are in need of finding a place to rehab."
– Brian Setzer
---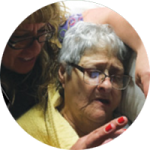 We could not have asked for a better group of staff to take care of our Mom.
"Deb O'Neil and Mindy Vangelist went out of their way to make sure my Mom got to see her sister before she passed away through Facetime. Being able to see her sister was absolutely amazing for my mother. We can't thank them enough. Both of them took such good care of her while we traveled to see my Aunt. I just wanted you all to know how amazing these two are and how lucky you are to have them working for Marquis. I really hope this gets out there. They truly deserve to be recognized for what they did."
– Jessie Maria
HR/Payroll/Scheduler at The Brentwood
---